---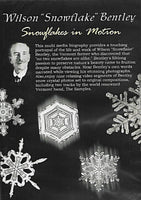 Experience this touching portrayal of the life and work of " Snowflake" Bentley. This multi media biography tells the story of the Vermont farmer who discovered that "no two snowflakes are alike". Learn of his lifelong passion and determination to become the preserver of the beauty in nature as he overcame many obstacles. Narration of Bentley's own words are combined with his stunning photographs.
Additionally, there are nine relaxing video segments which show the beautiful photographs of Wilson Bentley set to original music compositions. Included are two tracks by the world renowned Vermont band, The Samples.
Approximately 60 minute.
See trailer below: